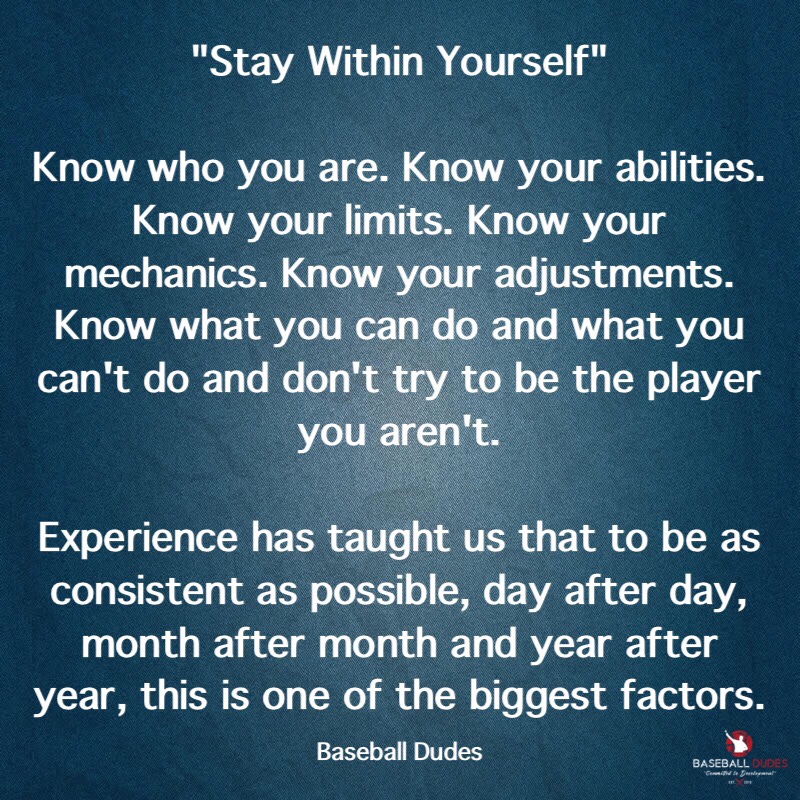 Video Analysis and over thinking/over coaching…
To be smart in this game is important. To know your body better than anyone else is a must. To know what adjustments you need to make physically or mentally, in the moment, are skills you MUST develop for long term success. This is one layer of Mental Toughness.
If you work hard at perfecting your swing or delivery then it's certain that you know more than many about the mechanics of the game. You most likely watch video and probably spend a lot of time breaking down your own mechanics and comparing them to the great ones and look for similarities and differences. That's great! You are becoming a student of the game and developing a work ethic needed for that long term success. You are learning to pay attention to those small details which is a skill you will undoubtedly need at some point later in life.
Here are a few things we ALL need to keep in mind when working with video analysis…
Getting "In the Zone":
You will find that your best performances will occur when you are "In the Zone." When the only thoughts going on in your mind are what you want to do on the next pitch. They are all forward focused. Your instincts are taking over and all that preparation you have done is going to work.
Often though players who train a lot and give so much focus on the mechanic side of the game have a hard time getting into these grooves as their minds have become so focused on breaking down each delivery or swing. The competitor in them is being held back as they are almost competing against themselves instead of their opponent.
Focus on the Good:
Watch video of success. Break down the GOOD swings. Analyze your delivery on those great days. And when things are off, something just doesn't feel right, you need to compare yourself to those days.
Often players only want to watch video when things are going bad. If you are a video guy, I suggest you focus on those great moments. Ingrain those images and feelings in your head as much as possible.
Less talking, more working:
Every player is different. Some like constant feedback while most excel when allowed to get into that groove. When a player is working and things are going well, throwing strikes, executing pitches, repeating their swing, let them work. Don't say a word. An "Atta'boy" is all that is necessary. And if they may be struggling to execute, encourage them to stop thinking and to work quicker to possibly get into that groove.
I strongly suggest not being that coach/parent who feels they need to say something after each rep. As a former player there was nothing worse than being interrupted while I was working.
"Stop thinking, visualize success and let it happen":
Let your instincts take over. You have put in a lot of work NOW let it work. Train yourself to visualize success before each pitch, whether in the box, on the mound or in the field, learn to trust yourself. And when you make a mistake, move on as quickly as possible, visualize success as quickly as possible and trust yourself.
When a player starts talking mechanics while working, though I am happy they are thinking, they are often over thinking and they don't even realize it. They are failing not because of a physical flaw but a mental flaw. We must help snap them out of that thought process and help them change their mindset by putting good words and thoughts in their mind. It's always amazing what some positive vibes can do for an athlete.
Video Analysis is a great tool and a big reason why we are able to help more players get the most out of their body. Personally I use it often with my students but it's not a staple each time we work. More like on a when needed basis.
In conclusion, be a student of the game, know yourself better than anyone else. The ultimate goal is for players to become their own coaches and to know their own adjustments. But understand this certain truth, those adjustments will more often than not need to be mental adjustments rather than physical adjustments. ALWAYS focus on your mindset. The prettiest swing or the smoothest delivery won't mean much if your mental toughness lacks. Train to trust yourself, let your instincts take over and COMPETE!