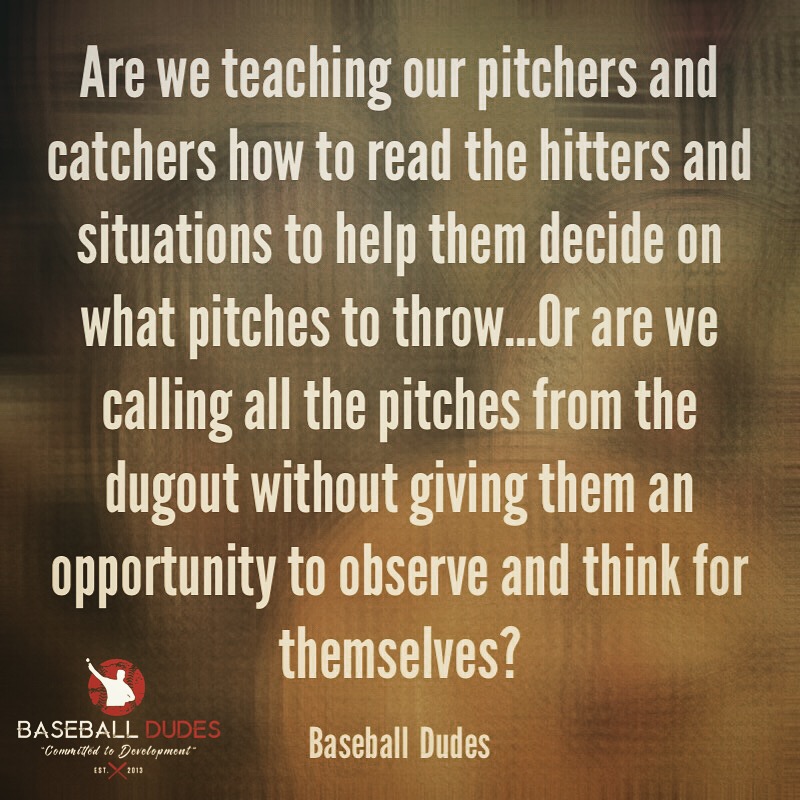 Raising and developing people…
THIS is what our job is as adults. Realize it or not, most everything that happens on a ball field can be related to life in some way. The problem is, many are failing to see what this is all about. We have become so obsessed with the outcome that we are failing to recognize and believe in the process. We often hear "Trust The Process" used but then find that those who frequently use this term simply do not understand what it really means.
"The Process" requires patience. It calls for us knowing what the end goal is. It takes us ADULTS teaching, then stepping back and letting them figure it out while resisting the urge to step in at the sign of failure. Failure is THE key to long term success. They are moments disguised as disappointment and embarrassment but are actually blessings in disguise. The problem though lies with the adults, parents and coaches, who lack patience for failure and see our player's and children's failures as a reflection of our ability to teach and lead. That's when we see the adults making it about them when we all should know what this is really all about…THE KIDS.
Here are 5 things that are happening on fields across the nation that are stunting player and individual growth…
Pigeon Holing Players:
We need to stop viewing them as "The Shortstop" or "The Center Fielder". They are Baseball players. They are "Athletes". The goal is for them to be able to confidently tell their HS coach at their freshman year tryouts that they can play wherever they need them. A player who played only SS his whole youth life is limited. Sure not everyone can pitch or catch but know this, we are not helping them develop their baseball IQ and "Options" when we develop them as a one dimensional player. Teach them and help them learn the game from multiple angles on the field.
Calling Pitches:
Robots don't think, they wait for commands. Why do we feel the need to call every single pitch from the dugout? It's great that you know how to get youth hitters out but that's not your job. The ball is not in your hand. Relinquish control, teach them how to observe the situation and the hitter AND LET THEM PLAY SOME BASEBALL. Will they make some poor choices on pitch selection…You bet! That's where we help them between innings to learn so they are better prepared for the next time that situation comes up. Not only is this not good for them to develop as thinkers and observers, it's horrible for the pace of a game. Talk about a tempo killer. Teach them, pitchers and catchers, to work together, work fast and get their boys back in the dugout as soon as possible. Bosses tell people what to do, leaders teach people what to do. Which one are you?
Undeserved Playing Time:
When a player is involved in too many things at once and continually fails to attend team practices…When a player continually displays poor body language…When a player is disrespectful towards the umpires, their teammates or coaches…Playing time is NOT deserved. By rewarding these behaviors with the privilege of seeing the ball field, we are making a huge mistake. Talent shouldn't matter…Opponent shouldn't matter…The importance of the game shouldn't matter…RAISING AND DEVELOPING THAT PERSON MATTERS. You ARE instilling ego and entitlement and you may not even realize it. Many things are bigger than the game and this may be the biggest of all. The greed of wanting to win is taking over common sense and blinding many to what this is really all about.
Ignoring Defensive Fundamentals:
Knowing how to read the play. Knowing what their job is. Knowing where to back up and where to throw the ball. Knowing how to properly execute and rundown. Developing instincts through repetitions. Too many games and not enough practice. Many HS players know what they should do on a play but when it comes down to it, in the moment, they have underdeveloped instincts as they simply have not practiced these fundamentals enough. Pitchers working on their craft is often ignored because "It takes too much time". The fact is, pitching and defense is what wins and loses most ball games. If you can't take care of the ball (throw strikes, field and catch the ball) the other team will make their way around the bases whether they are a good hitting team or not. There should be just as much defensive work as there is offensive work, if not more.
Instilling Ego, Entitlement and Un-Coachable Attitudes:
Help them develop confidence but keep them humble. Take ability out of the picture and treat them all as people. Help them understand there are many ways to be successful in this game (and in life) and for them to grow as much as possible, they must look for as much information as possible, ask questions whenever possible and NEVER go into a situation of opportunity with a closed mind. Talking down about their teammates and coaches is a HUGE parenting mistake. It's the good old fashioned term, "If you don't have something nice to say, then don't say anything at all!" Realize it or not, you are teaching the skill of gossip, you are instilling a sense of being better than everyone else and you are instilling habits that WILL get them in trouble at some point later in life. Lastly, teach them that success is earned. Find different ways to make them earn their keep. Teach them that talent will only get them so far, that their work ethic, their character, their dedication and perseverance will all be the deciding factor as they grow.
ALL of these things happen on and off a field during a baseball season. Some may read this and take it personal, that's fine. Some may read this and feel pain as they have, or are, living this. I'm nearly 40 years old, have been blessed with a life where I got to play, and now teach, the game of baseball. I understand I have been able to experience things that most will never get to and that keeps me humble. Now I have the privilege to teach what I have learned, and am still learning, every day. It's up to you if you want to be coachable (yes adults should be coachable too), or if you read these words and disagree. However you take it is fine with me. I'm here to help and teach from what I have experienced, that's it.
I'll end with this…"The Big Picture"…Our one purpose as adults is to provide for the young. This happens in many different ways. PLEASE don't ever let pride and greed blur your thoughts and cause you to miss out on the countless character development moments that happen on a daily basis. Lead by example, pour into THEM and help them prepare for LIFE.