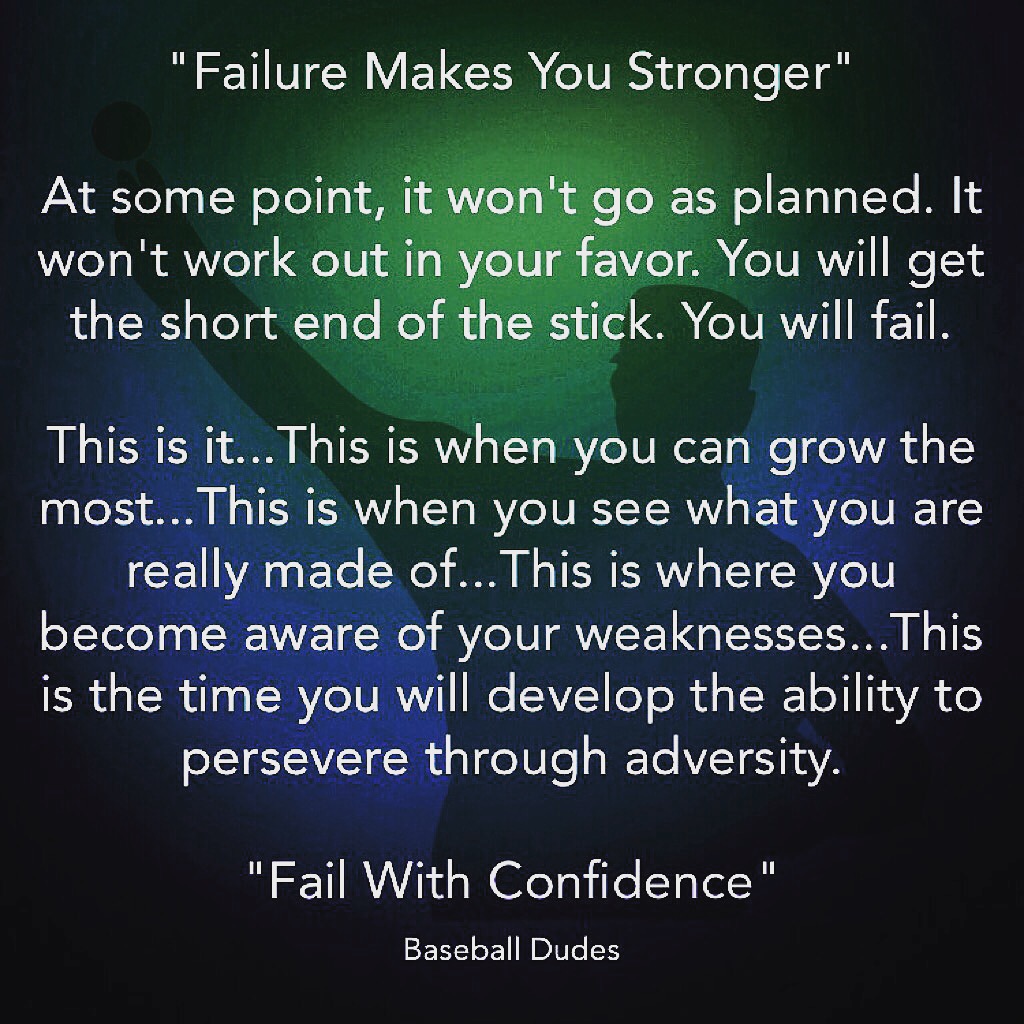 I've recently started to notice a trend amongst my students which is honestly a little disturbing. Now, this has probably been happening since time began but once I noticed it and started to pay attention to it, I realized I may have been missing something with all of them pertaining this important life lesson.
A couple months ago I was with a couple students and we were discussing their weekend of baseball. Their description…"Not Good!" I thought…"Well that doesn't sound good!"
As we got further into it and went game by game discussing team and individual performance, it became very apparent, TO ME, that they had a GREAT weekend but unfortunately lost in the championship game of the local tournament they were playing in. They won 3 and lost 1. If my math is correct, that is a .750 winning percentage!! We do that for a whole season and we have a great shot at finishing at the top of the standings and making the post-season. In this generation though we are constantly in sprint mode and seem to forget about the process of the marathon thus treating a 2-3 day tournament like it's a big league playoff series and your season is on the line. And then doing this a dozen times, sometimes more, over the course of a season.
In this situation, these young men failed to recognize their teams success over that weekend and were only focused on that last game. From there we discussed why they were seeing the game that way, how that attitude affects performance and then talked about the process of getting better by how we view failure. I went on to share with them how at the higher levels of this game we always had a goal of splitting the series on the road and winning it at home. So in a four game series in our opponents park taking two and while at home taking three. Anything more than that was bonus. We did that for a whole season and again, we will finish in the standings where we want to be and get to play a little longer that season.
As parents and coaches, when we put so much emphasis on those failures and fail to recognize success, WE are instilling an attitude of being afraid of failure versus an attitude of embracing failure and all the lessons that come from them. We don't grow without failure. We don't figure things out without failure. We don't develop mental toughness without failure. We don't become great without failure.
One of our most important jobs, which is often missed, is preparing them to fail. The great ones fail very well. They process it very well. They are the ones who bounce back quicker and are ready to take advantage of those who crumble at the sign of adversity when their back is against the wall. There is so much failure in this game that if we are so consumed with that negative stuff, and as coach or parent that is what we give most of our attention to, we will never be fully prepared to succeed. Sure, we may talk a big game, have all the right things to say, work really hard and hustle consistently BUT that negative mindset, instilled by those around us/them, will be our/their demise!
Going 0-4 at the plate with 3 line drive outs and a strike out looks like a bad day to many because there is a zero in the hit column, but in my book that's a solid day at the plate. Learn about "Quality At-Bats" and you will instantly look at the game a little different. Pitching 6 innings, giving up 2 earned runs with a few hits allowed and a couple walks along with a handful of strikeouts but getting tagged with the "L" is a great day on the mound but too many focus on that "L". It sucks that the team lost but you controlled what you could control and for individual confidence, that's what we need to recognize.
This is a team game but also a very individual game at the same time. For us to contribute to our team the best we possibly can, we must be individually prepared and confident at all times.
Yes, success breeds confidence but we will all fail at some point and the great ones are always prepared to fail while always having a way of putting a positive spin on those moments.