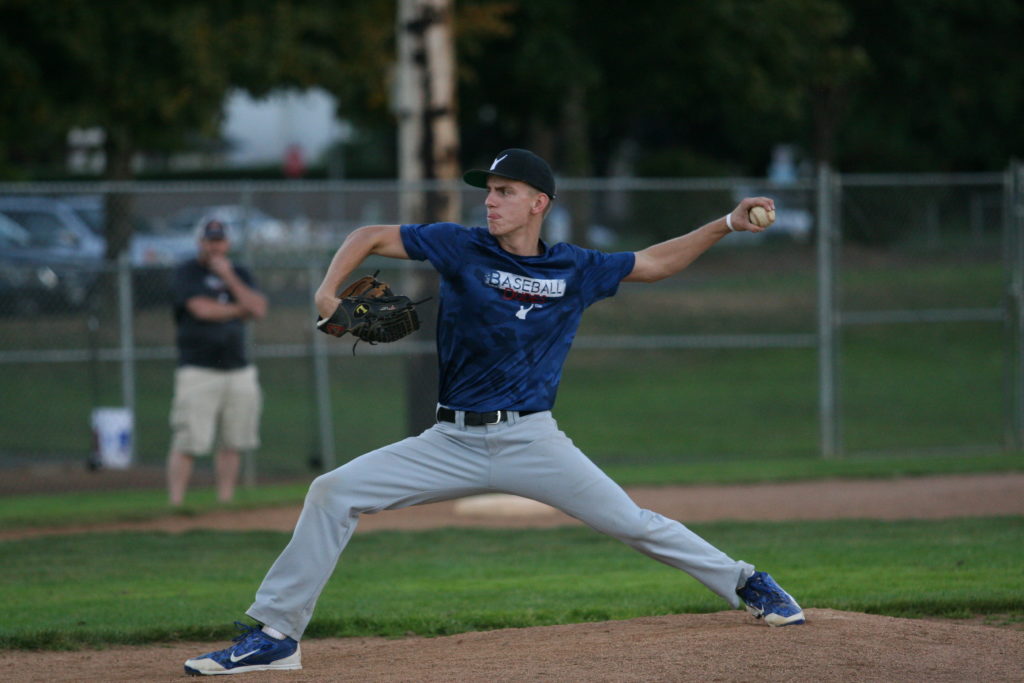 First, let's be real, injuries happen. Throwing something overhand puts a lot of stress on the shoulder and elbow joints. Coordination and genetics often play a role in a sore arm.
With that, there are things we can do to promote healthy arms and put them in a position to be strong from the beginning to the end of a season. Dedication and commitment to arm health needs to be taken seriously, especially in this generation with so much baseball being played.
1) Core strength. Baseball is a rotational sport. Developing and maintaining the strength of your core, front and back, puts the body in a position to use your whole frame to create power. Develop a daily routine that includes multiple core strengthening exercises.
2) Lower half strength. Power, power, power. Most of a pitchers power will be determined in how they move down the mound. From the glutes, to the quads, to the hammies, become a beast.
3) Hand and wrist strength. How strong is their grip? Every time they throw a baseball, they are using all these muscles. Develop these to protect all the tendons and ligaments underneath. Use a hand gripper, racquet ball, rice bucket, gyro ball exerciser, etc.
4) Shoulder and elbow strength. Resistance bands, light weights, body weight movements. There are lots of different products and routines out there. Many different exercises. I don't care which one you do, just do something! Find something you enjoy. Develop stability in these joints. Develop and maintain strength and endurance in those decelerator muscles.
5) STAY CLOSED! It doesn't matter how good you are in the areas listed above, if you start to rotate open too soon in your delivery, you will lose momentum and lack torque which in turn will put all the pressure on your arm joints to try and create power. Momentum all the way down the mound and late turn/torque creates most of the power and takes the strain off the arm.
6) Learn proper mechanics. Everyone looks different and some can get away with not being perfect. Focus on stride length, body position at front foot contact, body movements from there to release and what happens after release (aka, how does your body decelerate).
7) Listen to your body/arm. If it needs a break, then give it a day off. Twenty-four hours can do wonders. This can take years to fully understand but when it comes to endurance and being able to finish the season just as strong as you were when it started, this is a major key.
8) Tendonitis and dead arm is fatigue. These happen when your body wasn't prepared for the amount you have been putting on it. Getting through a whole season at the professional level without coming down with either of these at some point is pretty much impossible, simply because it is so much, no matter how well you are prepared. With the demand at that level, it's inevitable. If a youth player is experiencing these, there are most likely issues in the areas listed above and there needs to be adjustments made to their non-competitive and competitive workload.
9) Develop routines. Catch, long toss, bullpen, arm care, core work, strength training, speed training. Strengths and weaknesses are determined in the strengths and weaknesses of our routines. Thoughtout and detailed routines make sure that everything that needs attention, gets the attention it requires.
10) THROW MORE! Condition the arm for the demand. "Saving bullets" by taking it easy on your non pitching days and never throwing bullpens at near game speed, is putting your arm in a weaker position in regards to strength, stamina and endurance. Thus when you go out and demand 70-100 pitches from it, and it's essentially been hibernating for the past however many days, it won't be fully prepared for what you are about to put it through. Don't be afraid of throwing the rock daily. Never go more than three days without getting on the mound to refine your delivery and continue to develop feel for your pitches. Throw your changeup daily, spin the baseball daily (if you are there in development).
11) Establish limits. Once a player hits their threshold of reps in a game that they are conditioned for, each rep from there on out puts them in a weaker position thus elevating the risk for injury. Understand progression when it comes to pitch counts. And when there has been too much time between competitive pitches, stamina and endurance is lost quickly and you need to back track a little in the workload that arm will see in their next game pitched.
12) Put your pitchers on a rotation. Allow for consistent work. You should know right now who will start that game that you have three weeks from now. Development is in consistency and we are here to help them develop…PERIOD!
13) Play multiple sports. Take AT LEAST 12 weeks off in the winter from throwing. Take time to focus on overall strength and develop an active rest routine for your throwing arm. Put the gloves down, put the baseballs down. Read a book on mental toughness. Read articles on how big leaguers achieve their success. Train your mind. Sit down and write out some new routines. Evaluate your season and determine weaknesses and strengths and make a plan to improve on them and perfect them. Establish goals.
Most have a goal to play this game beyond high school. The question is, are we hindering their chances of achieving those goals with the way we are using them, or not using them? Are we putting them in a position to succeed or are we risking their future by with the decisions we keep making?
Injury is the number one cause for players never reaching their full potential. Let's do a better job at making decisions that put them in a better position to not become a statistic.