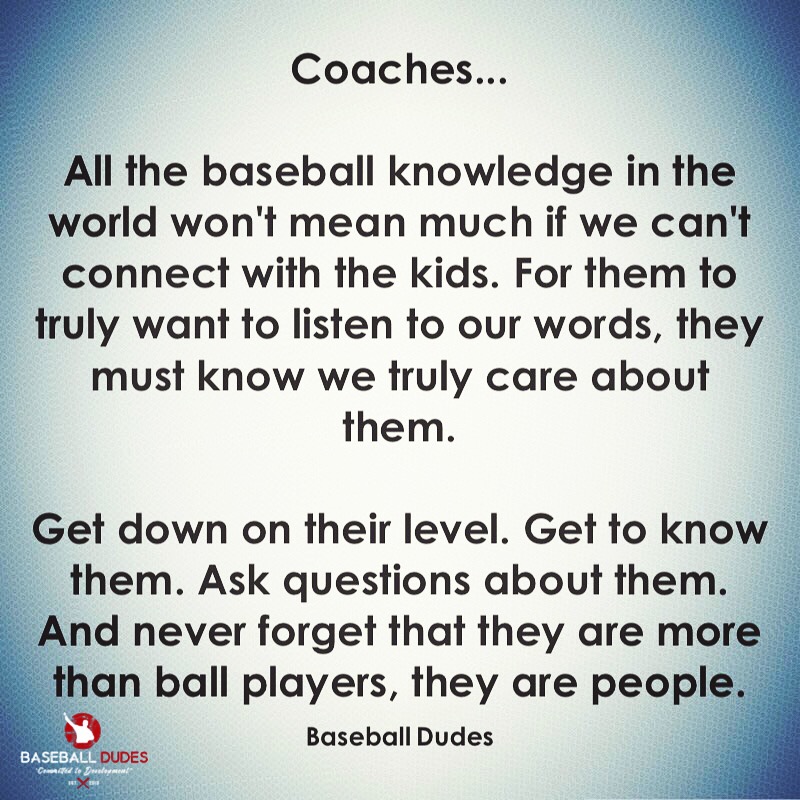 As I reflect on life, as I hope you all do often, the future is always a focus. Be it family, business, our students or those that follow us, the idea is always, "How can we get better?" "What do they need?" "How can we help them?"
My personal, life, business and baseball experiences have taught me a lot. From work ethic, to reality, to perseverance, to the value of relationships and to the one thing that matters most "Character", I feel we as adults need to get a better grip on "Perspective" and the reality of life and the young ones in front of us.
Here are a few things I am seeing we ALL need to be better at realizing…
1) The relationships we have with our children are precious. And when we push our personal desires and unrealistic ideals onto them, we very easily may be creating tension, stress, resentment, anger and pain that could lead to a lifetime of heartache in your relationship. And all because we couldn't control ourselves and tried to force something on them that they simply didn't have a passion for but we, their mentor, couldn't accept that.
2) Making an impact on young lives should be our number one goal. I may be mistaken, but in the end, I feel most of us would feel much more joy in thinking about all those that we helped rather than how many games we won during our time as a coach. I think this is an important question that all teachers and coaches should frequently ask themselves. "Am I giving them what they need or are my actions and thoughts geared towards making me feel and look better?"
3) A group of talent is awesome. They may see a lot of result oriented success. Lots of oohs and aahs! Building a superstar team may make for a tremendously successful season on paper but as we see too often, these teams fall apart because of poor leadership. BE CAREFUL of looking to be a part of that team that's going to win 90% of their games. Take 1st or 2nd in every tournament they play in. We must learn from others mistakes and choose the coach. That one person, or persons, and their approach is the difference maker. Sub .500 season or winning season, your ball player learning baseball skills and, more importantly, life skills IS what matters most.
4) One day these kids will be parents, leaders, business owners, employees, teachers and possibly serve our country. THAT is their future and THAT is what we are helping them prepare for. All of these people need to be able to think for themselves. Problem solve. Have mental toughness. Have leadership skills and have people skills. My question is, is our approach preparing them for all of these? Are we encouraging our players to think and observe, or do they look to us for some sort of sign before every pitch? Are we allowing selfishness and poor sportsmanship, or are we helping them improve on these flaws with the best teacher of all, "The Bench"? Are we teaching them how to handle adversity with our attitude of moving on or are we behaving in a manner of complaining and poor sportsmanship? We are their leaders, it's time to lead them.
5) Smarts vs. Instincts. Too much talking and not enough working. Instincts are developed with reps. We most definitely will see more reps in practice than we do in games when it comes to the fundamentals of the game that lead to better fundamentally played games. Young players need at least a 1:1 ratio of practices vs. games if not more practices. But what we see are older teenage players who have acquired smarts, they know what to do in this situation or that because of what they have been told to do, but lack instincts in game speed situations because as a youth player, games played out numbered their practice time. Games are fun, they take less planning and quite frankly, less effort on the adults part. Our goal should be to prepare them for HS baseball. Practice, Practice, Game. Practice, Practice, Game. Practice, Practice, Game. Parents, find these situations and realize that more games does not mean better when it comes to their future.
We must ALL be looking to get better. To help them learn, improve and be prepared, we must first learn, improve and become prepared.